A couple of years ago i made some skins for a program named dscaler. DScaler is the program i used for watching Television on my PC. Its Default Skins is kinda lacking so i made a skin for it and this is one of my early foray into skinning. Here is the description of dscaler quoted from their official site
www.dscaler.org
:
DScaler 4 is a piece of software that captures video, processes it, and scales it for presentation on a projector or computer monitor. DScaler implements highly sophisticated algorithms that work in real-time to provide PC owners with image quality matched only by very expensive equipment.
Go to
www.dscaler.org
for more info and to find out what capture card are supported.
Here are some of the skins i made for dscaler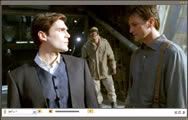 Download Brown Coat Skin
Download Kreen Skin
*Kreeen is inspired by logixoul's Kreen for deKorator 0.2
http://kde-look.org/content/show.php?content=33652
Download Mac Style Skin
go to
dscaler-skins.blogspot.com
for more skins by me, Liviu and Klaus Staedtler.